Bamboo Shoe Rack, Honey-Can-Do Bamboo 3-Tier Shoe Shelf
Bamboo Shoe Rack
Organize your shoes in style with the Deluxe 3-Tier Bamboo Shoe Rack. The shelves can be adjusted to lay flat or tilted. That gives you the option of using the top shelf as a place to set down your purse or bags in the entryway.
Bamboo is moisture resistant, making this shoe rack a good place to let wet shoes dry off. Use in the closet or in a mudroom as shoe storage. This Honey-Can-Do Bamboo Shoe Rack is easy to clean and also eco friendly since bamboo grows quickly and is therefore a renewable resource.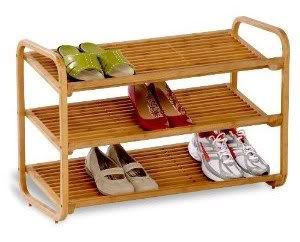 Comes with a natural finish. Assembly level degree of difficulty: Easy.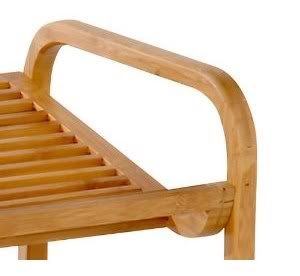 3-tier shelf for shoes; approximately 3 feet wide; less than 2 feet high
Made from fast-growing bamboo for reduced environmental impact
Slatted surface is attractive, durable, and naturally moisture resistant
Holds approximately 9 to 12 pairs of adult-size shoes
Wipes clean; easy to assemble; available in 2-tier and 3-tier models

.
.
Return from Bamboo Shoe Rack to Entryway Shoe Storage homepage.


Solve Your Storage Problems in High Gloss Style
Is your home looking more like a jumble sale than a show flat? Do you dream of a clutter-free, minimalist home where everything has its place, but in reality despair at your cramped and disordered home? Most of us in the UK have very limited space in our homes; storage is a real headache and the only solutions seem to be Swedish, flat-packed and somewhat lacking in style. Despair no longer! Trendy-Products.co.uk, the home of beautiful and functional contemporary furniture, can save your storage problems in high gloss style with the exclusive and super-chic Italian Storage Range.
Most of us have a woeful lack of space in our homes. Coats are left on backs of sofas when we walk in the door, or else have to be squeezed into a bursting wardrobe, and shoes are shoved in the dark and inaccessible depths of our wardrobes. Our compact lounges have to accommodate tables and seating, TVs and entertainment systems, books and magazines…the list is endless and the resulting look is often confused and claustrophobic.
Until now, there was little you could do about it given the frustrating lack of choice when it came to storage solutions; certainly without spending fortunes or sacrificing style. But what if you could tidy away all your clutter, add some stunning high gloss pieces of modern furniture and create huge swathes of space in your home at the same time, all without breaking the bank? You can, thanks to the ingenious and stunning Italian Storage Range and those helpful folks at Trendy Products.
The Italian Storage Range features a huge choice of versatile pieces that are designed to bring sleek, stylish beauty to your home while at the same time solving storage problems and creating space; a god-send for compact British homes. The range is mix and match so you can choose whatever space-saving pieces you need and they'll not only match each other, but their subtle choice of finishes are designed to fit into just about any decoration style. The Storage Range is also purposefully compact, designed to be able to fit into corners, flush against walls or behind doors, maximising the space of the room without cluttering and yet with ample space to hold TVs or store coats and shoes.
Take a browse through the range at www.trendy-products.co.uk and some pieces may seem familiar. That's because the Contemporary High Gloss TV Unit and the Contemporary High Gloss White Dining Table and Chairs were featured in the Channel 4 Home Show with architect and lover of high design, George Clarke.
Other highlights from the range include the Entrance Hall Wardrobe in high gloss or the Entrance Hall Clothes Stand – or for very limited space try the Entrance Hall Wall Coat Hanging Rack. Available in a choice of finishes, these pieces create a much-needed sense of space in what can be the narrowest part of the home. Continue the organisation of your home with high design and beautiful Italian designer furniture in the bedroom. There's the Shoe Storage Cabinet and the Mirror Front Tall Shoe Cabinet, providing a mirror and storage space in one: shoe cabinets so über-chic that no one would ever guess their purpose!
The Italian Storage Range also features contemporary high gloss white furniture and high gloss black furniture such as the dining table and chair sets, all with sleek chair designs that fit snugly into the table thereby maximising space, with some being extendable for extra flexibility. In fact the range is so extensive, there's a solution for just about every storage problem out there!
Trendy Products is the only place in the UK where you'll find the coveted and chic Italian Storage Range. They also stock lots of other space-saving furniture such as beds with lift-up mattresses which reveal fantastic underneath storage areas. View the entire product range at www.trendy-products.co.uk and say goodbye to clutter and hello to high gloss style!
Editor's Note: Trendy Products is represented by the digital marketing specialists and SEO provider Jumping Spider Media. Please direct all press queries to Louise Byrne. Email: louise@jumpingspidermedia.co.uk or call: +44 (0)20 3070 1959 / +34 952 783 637.