Shoe Storage Cabinet – Brown
Shoe Storage Cabinet
This conventional brown shoe storage cabinet is a perfect and practical way of storing and accommodating your excessive shoe collection. Cabinet features tilting doors to save precious space. Designed for your closet or entry way with ample storage space.
This shoe storage cabinet with doors features a stackable double unit that holds up to 12 pairs of shoes. Dimension: 30″L X 11″W X 34″H. Constructed from sturdy, durable cherry finish melamine laminated particleboard that is stain resistant and easy to clean.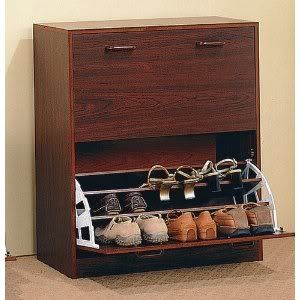 The unit is easy to assemble. Also available in cappuccino finish. Lowest factory direct price guarantee. More Info On Shoe Storage Cabinet…
Rating:

(out of 2 reviews)

Return from Shoe Storage Cabinet to Entryway Shoe Storage homepage.