Stackable Shoe Rack – Cherry – 15.5″
Stackable Shoe Rack -Cherry -15.5″
Traditional and Classic Wooden 2-Tier Stackable Shoe Rack. Far better than leaving shoes a disorganized mess by the door, use this shoe rack instead. The traditional design is sure to please. Solid wood construction combines durability and beauty. California based ORE International is an importer of innovative, high quality lighting fixtures, gifts, and furniture.
This stackable shoe rack is perfect for storing all your entryway shoes and boots. It is made of solid Mahogany wood that is both attractive and durable. These shoe racks can have two or more units stacked together on top of one another for even more space saving storage.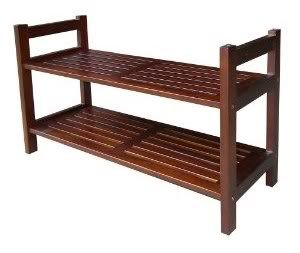 Features Classic Styling and Decorative to organize your space. Easy Assembly.

Maximum Weight Capacity: 80.0 Lb.
Frame Material: Wood Composite
Number of Shelves: 2
Care and Cleaning: Wipe Clean With a Dry Cloth
Dimensions: Length: 27.5 "; Height: 15.5 "; Width: 10.5 "

Return from Stackable Shoe Rack to Entryway Shoe Storage homepage.