Shoe Cubby – Black
Organize your closet, entryway, or mudroom with this shoe cubby bench, which is also great for organizing other items around the house!  The twelve storage cubbies measure 5″H x 10″W; large enough to slide a pair of shoes in with ease. Constructed of melamine covered wood composite, this hall bench is available in Black and White.
The main supporting parts of this shoe cubby are 3/4″ thick with the back being 1/4″ thick, making this a very durable furniture piece. The top outside corners of this cubby storage unit are rounded for added safety.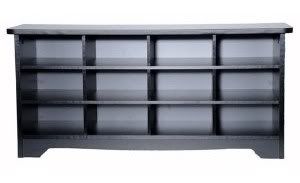 Shoe Cubby Features
Color: Black
Size: 20.75″H x 45″W x 15″D
12 Cubbies Measure 5″H x 10″W
Melamine covered wood composite.
Available in Black and White
Rating:

(out of 2 reviews)

Return from Shoe Cubby to Entryway Shoe Storage homepage.
This wooden shoe bench is made from solid brown wood construction. Provides entryway storage for your shoes. Features a handy seat.
Assembly required.
.
More info…
.

Return to Entryway Shoe Storage